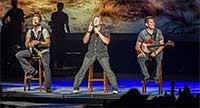 Rascal Flatts
Rascal Flatts is an American country pop music group formed in Columbus, Ohio in 1999. The band is composed of Gary LeVox(lead vocals) and second cousins Jay DeMarcus (bass guitar, keyboards, background vocals) and Joe Don Rooney (electric guitar, background vocals). DeMarcus is a brother-in-law of country singer James Otto, and formerly one-half of the Christian music duoEast to West.
From 2000 to 2010, they recorded for Disney Music Group's Lyric Street Records. While on that label, they released seven albums, all of which have been certified platinum or higher by the Recording Industry Association of America (RIAA). In order of release, these albums are Rascal Flatts (2000), Melt (2002), Feels Like Today (2004), Me and My Gang (2006), Still Feels Good (2007),Greatest Hits Volume 1 (2008) and Unstoppable (2009). After Lyric Street closed in 2010, they moved to the independent Big Machine Records, for which they have released three more albums: Nothing Like This (2010), Changed (2012), and Rewind (2014).
Their studio albums have accounted for more than 25 singles, of which 12 have reached No. 1 on Billboard Hot Country Songsand/or Country Airplay. Their longest-lasting No. 1 single, a cover of Marcus Hummon's "Bless the Broken Road", spent five weeks in that position in 2005. In 2005–06, "What Hurts the Most" was No. 1 on both the country and Adult Contemporary charts, and peaked at No. 6 on the Billboard Hot 100.
From Wikipedia.org