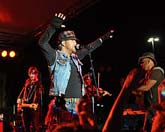 LoCash Cowboys
LoCash, formerly known as LoCash Cowboys, is an American country music duo composed of Chris Lucas and Preston Brust, natives of Baltimore, Maryland andKokomo, Indiana, respectively. The duo was signed to R&J Records (formerly Stroudavarious Records), for which they released three singles. The first, "Here Comes Summer", debuted at number 60 on the Billboard Hot Country Songs chart for the week ending May 8, 2010. The song was made into a music video which aired onCMT. LoCash Cowboys also performed at the Bama Jam Music fest in June 2010. The duo's second single, "Keep in Mind", entered top 40 on the country music chart in early 2011. Followup "You Got Me" reached number 52.
In 2012, the LoCash Cowboys released the single "C.O.U.N.T.R.Y." through Average Joes Entertainment. The song was originally intended to be the fourth single from their debut album, but was held back due to the closing of R&J Records. The video premiered July 31, 2012 on GAC. A dance remix of "C.O.U.N.T.R.Y." featuring Colt Ford was also released, and was included on the album Mud Digger, Vol. 3, also from Average Joes.
Brust and Lucas co-wrote Keith Urban's 2011 single "You Gonna Fly" and Tim McGraw's 2012 single "Truck Yeah".
In late 2014-early 2015, the duo renamed itself LoCash and released a new single, "I Love This Life", via Reviver Records.
On July 11, 2015, "I Love This Life" made it to #1 on Sirius The Highway. Sirius XM Blog
From Wikipedia.org